The MCM5 is probably the
fastest 14″ unicycle
. Compared to other 14-inch unicycles, the MCM5 feels as if you are riding a 16 incher. It's slightly heavier than other models in the category, but you get to enjoy longer rides because of that big battery. It's a powerful model due to the
1500W motor
and very agile because of the 14″ tire. You can do some off-road rides on it as it performs perfectly fine, but we believe that there are more comfortable wheels for off-roading and wouldn't necessarily recommend the MCM5 for that. Regardless, this model
is ideal for casual riders
that want a little bit more speed and range of their 14-inch unicycle. The second version of the MCM5 comes with holes on both sides of the handle, higher pedals and a thicker tire of 2.5 inches (the previous version had 2.125 inches tire).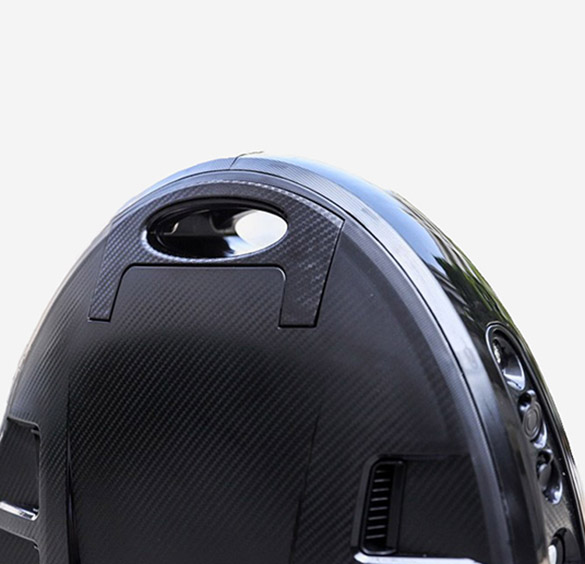 So far, lifting the MCM5 has been very uncomfortable, not just for left-handed riders. You either had to lift it with your right hand by positioning yourself to the left of the wheel to lift it or turn it with the rear side facing front to lift it with your left hand through the hole on the right side of the wheel. This whole situation feels too complicated to explain. The new MCM5 comes with holes for the handle on BOTH sides, not just on the right side. Times of the single-sided handle are over. Thank you, Begode!
One of the most notable updates of the MCM5 is the wider tyre and the bigger ground clearance. The V2 comes with a 14×2.5 tyre, making it the wheel with the widest tyre in the 14-inch category (InMotion V5F and KingSong 14D are both with 14×2.125). The wheel remains nimble because it's lightweight and has a 1500W motor, but the new tyre adds more stability and going through road bumps feels slightly softer. Of course, the smoother ride is also a result of the updated pedal clearance. We can now take on rougher terrains for our MCM5 rides.